Malaysia tells thousands of Rohingya refugees to 'go back to your country'
Minister says his country is unwilling to accept boatloads of people fleeing poverty and persecution in Bangladesh and Burma.
Malaysia
said on Wednesday it would no longer accept new arrivals of ethnic minority Rohingya fleeing persecution in Burma, as the UN refugee agency expressed surprise that south-east Asian nations were now turning back boats.
Up to 8,000 impoverished Bangladeshi migrants and Rohingya asylum seekers are still believed to be stranded at sea close to Malaysia and
Indonesia
.
Nearly 2,000 were rescued from abandoned people-smuggling boats in the two countries at the weekend.
One vessel that reached Indonesian waters early on Monday was turned away by the country's navy after being given supplies and directions to Malaysia.
Malaysia's deputy home minister, Wan Junaidi Tuanku Jaafar, however, said his country would use tough measures, including turning back asylum-seeker boats and deportation in order to send the "right message".
"We don't want them to come here," the deputy minister said. His ministry oversees the police and immigration agencies.
"We are not prepared to accept that number coming into our shores and those people who are already in, we are sending them home anyway.
"I would like them to be turned back and ask them to go back to their own country. We cannot tell them we are welcoming them."
--------------------------------------------------------------------------------------------------------------------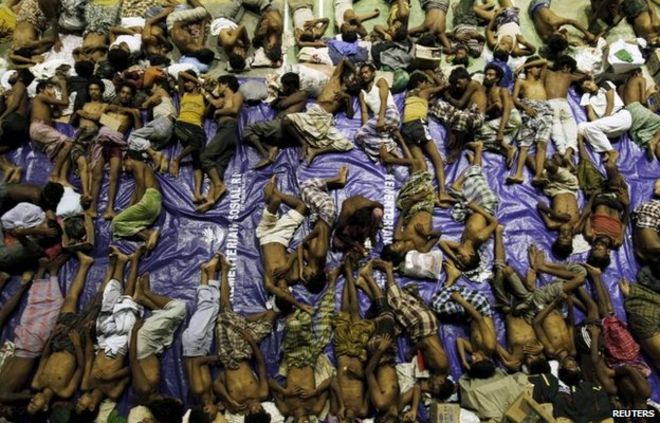 Myanmar Rohingya migrants 'begging for help' from boat
A group of 350 migrants from Myanmar have told an activist by phone that they have been abandoned by their crew and need help.
The migrants, including 50 women and 84 children, say they have had no food or water for three days.
The passengers were calling for help and crying down the phone, said Chris Lewa of the Arakan Project which works with the Rohingya ethnic minority.
The migrants are not sure where they are and their boat is drifting.
"They say the boat is a Thai boat and the crew and captain are Thai. They have been two months at sea. The day before yesterday crew and captain abandoned the boat, arranged a boat for themselves, and they took parts of the engine so it's not working," Ms Lewa told the BBC on Tuesday.
-----------------------------------------------------------------------------------------------------------------------
Who Are the Rohingya and Why Are They Fleeing Myanmar?
Malaysian officials said Monday that 1,081 Bangladeshi and Rohingya refugees landed on the country's Langkawi Island. On Sunday, 600
"sad, tired and distressed"
migrants were stranded off the coast of the Indonesian province of Aceh. On Monday, another 400 were found aboard a ship, the BBC
reports
.
Hundreds of those people are believed to be Rohingya, the ethnic Muslim minority in Myanmar who for decades have faced discrimination and persecution in the majority-Buddhist country. The government of Myanmar considers the country's approximately 1.33 million Rohingya illegal settlers, and the United Nations classifies them as
one of the most persecuted refugee groups in the world
.
On her visit to the country earlier this year, Yanghee Lee, the U.N. special rapporteur on human rights in Myanmar, saw "no improvement" in the way the Rohingya were being treated.
"The conditions in Muslim [internally displaced person] camps are abysmal, and I received heartbreaking testimonies from Rohingya people telling me they had only two options: stay and die or leave by boat," she
said
in a statement.
Malaysia and Indonesia are both majority-Muslim countries.
Between 1826 and 1948, the Rohingya were brought from India by the British during their colonial rule to work in Myanmar. Since then, their origin has been disputed, with some believing they hail from Bangladesh and others saying they came from Rakhine state in southeastern Myanmar.
Myanmar's president, Thein Sein,
denies there have been human rights abuses
against the Rohingya, calling such reports "pure fabrication." He also denies that the Rohingya are a people and refers to them as "Bengalis." Calling the Rohingya "Bengali" is "a discriminatory, xenophobic way of erroneously implying that Rohingya are illegal immigrants from Bangladesh," says the
U.S. Campaign for Burma
, a Washington-based nonprofit. Sein has called on the U.N. to facilitate the deportation of the Rohingya to other countries, but the U.N.
rejected the proposal
.
Last year, Myanmar unveiled a
controversial plan
offering Rohingya citizenship if they changed their ethnicity to Bangladeshi in origin. For the Rohingya, calling themselves "Bengali" implies they are illegally in the country, which most of them reject.
In 1982, the Rohingya were stripped of their citizenship by the government of Myanmar, then known as Burma. The Burma Citizenship Law also restricted their access to education, services and freedom of movement, and allowed property to be taken arbitrarily. More than
140,000 Rohingya
live in internally displaced persons camps around Sittwe, the capital of Rakhine state, in southwest Myanmar, where they are entirely dependent on international assistance, Human Rights Watch said in 2014. More than 200,000 Rohingya refugees live in Bangladesh, according to
Refugees International
. They are effectively stateless.
Advocates fear violence and discrimination against the Rohingya is escalating, fueling a surge in treacherous boat journeys. Last year, more than
40 Rohingya were massacred
in the village of Du Chee Yar Tan by local men, the U.N. confirmed. Among the findings were 10 severed heads in a water tank, including those of children.
Earlier this month, dozens of bodies were discovered in smugglers' camps in Thailand. Many of the victims were
believed to be Rohingya
.