Source and Credit To : BBC New (12/05/15)
A major earthquake has struck eastern Nepal, near Mount Everest, two weeks after more than 8,000 died in a devastating quake.
At least four people have been killed and an unknown number injured, according to aid agencies.
The latest earthquake hit near the town of Namche Bazaar, near Mount Everest.
The US Geological Survey said it had a magnitude of 7.3. An earthquake on 25 April, centred in western Nepal, had a magnitude of 7.8.
The latest tremor was also felt in northern India and Bangladesh.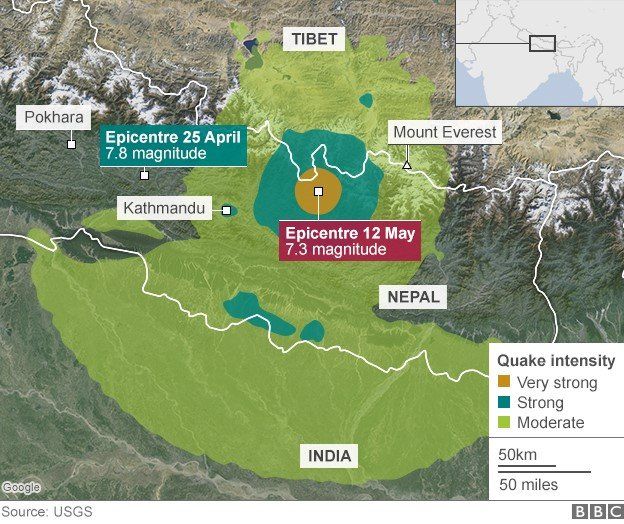 Analysis: Jonathan Amos, BBC News, Science Correspondent
By any stretch, a magnitude-7.3 quake is a big one. It's not quite as big as the quake on 25 April (7.8), which was 5.5 times more energetic, but it's a major tremor nonetheless.
Since 25 April, the immediate analysis had suggested that more activity on the fault was possible because the previous event had not ruptured all the way to the surface. That meant some of the strain built up in the rocks over the years had not all been released.
One has to hope that the buildings which were damaged last time have been felled in subsequent aftershocks, or have been put out of bounds. This will limit the casualties this time. But further landslides and avalanches in the mountainous terrain are a persistent risk.
And, of course, another big tremor does nothing for the frayed nerves of an already anxious population.